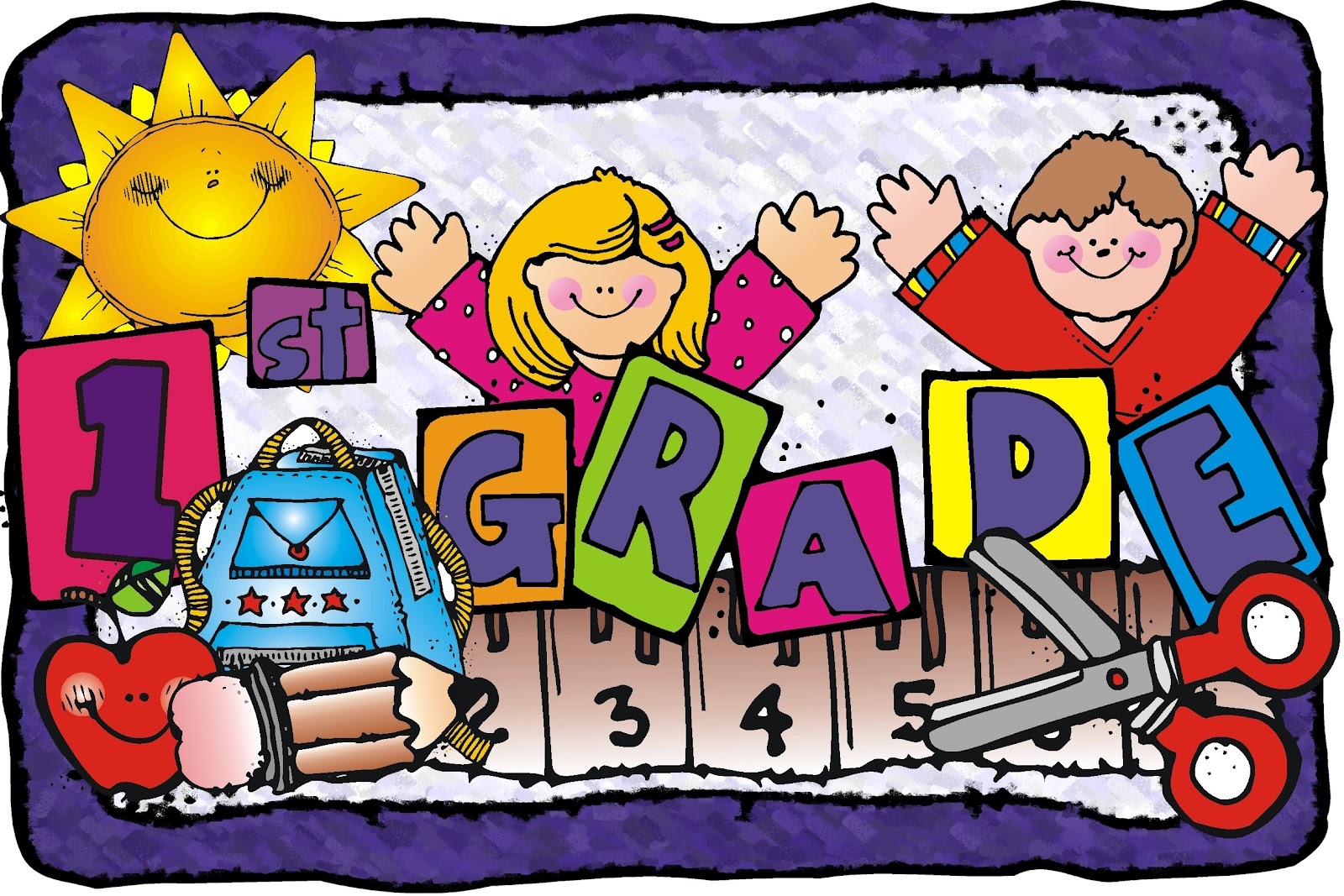 My goal and responsibility is to help each first grade student develop an enthusiasm for learning, a respect for self and others, and the skills to become a creative independent thinker and problem solver.
ABSENCES
Please call the office and let us know if your child will be absent. If your child is absent I can send the homework home with a sibling. Please let me know in the morning and I will have the work ready by the end of the day for pick-up. Please make sure your child attends school every day if they are able to. Your child's presence is an essential component for academic and social growth.
ARRIVALS & DEPARTURES Students will be dismissed to parents via car on Killian Place.
School starts at 8:00 A.M. and dismisses at 2:25P.M. Students will be marked
TARDY
after 8:10 and must check in at the office for a late notice to be given to the teacher. The serving of breakfast will close at 8:10.
BIRTHDAYS
Birthdays are special occasions in first grade. Parents may send in a small treat for each child (22) 8 boys and 14 girls to enjoy. On their special day, students wear a birthday crown. They pass their treats after our rendition of "Happy Birthday." Any treats sent in must be store bought not homemade. No cupcakes or munchkins allowed. It must be a healthy snack. Check the school handbook for additional choices. We usually celebrate at the end of the day to eliminate classroom disruptions. The students are also permitted to wear their own clothes on their birthday. If the day falls on a Wednesday (gym day) or a liturgy day, they can choose another day. All summer birthdays will be celebrated in June. I will send out a letter in May.
BOOK CLUB
Grade one participates in the SCHOLASTIC BOOK CLUB. Several times during the year I will send home a book order form. It's a way to offer you wonderful, current literature at great prices. Scholastic provides a wide selection including classic favorites, beginning readers and newly published childrens' books. You'll have the opportunity to select and purchase grade appropriate books for your child's enjoyment. Your participation is strictly optional. Each order form will be marked with a date to return it to class. You may send the order form with your child's name on it in an envelope with payment. All checks must be made payable to Scholastic Book Club. Instructions for ordering directly on line with a credit card will be sent home with the first order form. I'm sure you'll be happy with your selections.
CHANGE IN TRANSPORTATION
Please send a note or call the office if your child will be going home a different way other than what is noted on the office record card. Notification must also be made when an individual other than a parent will be picking up your child.
CLASS PARTIES
What would first grade "bee" without an occasional class party? There are several scheduled for the coming school year and notices will be sent home prior to the event. If at any time you plan on sending in goody bags please do not put the individual child's name on the bag. Distribution is much easier without the name. However, bags may be labeled boy or girl if you wish to differentiate. Any food treats sent in must be store bought not homemade.
CLOTHING
Students need to be in full uniform except on calendar noted Tag Days if participating, student birthdays, and attendance at liturgies and prayer services. Please put names on coats, sweaters, backpacks, lunch boxes, and gym sweatshirts. Students are to wear their gym uniforms along with appropriate white sneakers on Monday and Wednesday, the first grade gym days. Brown or black shoes, not boots are the official shoe to be worn during the school year. We continue to go outside in the winter, weather permitting, so please make sure your child has a hat, mittens or gloves for the colder weather. Nail polish, mohawks, or hair etchings are not allowed.
CONFERENCES
Mandatory parent /teacher conferences are held in November. During our conference we will review your child's progress during the first marking period. First grade report cards are distributed in February, the second marking period. We will also discuss what I have observed regarding your child's learning abilities, social skills, and classroom behavior. Additional conferences are optional. I'm always available before and after school and via e-mail and phone.
HOMEWORK
Homework in first grade is a vital link to parents. It keeps you informed and involved in your child's education. It also teaches students to be responsible. The student must bring home the daily assignment, complete it with parental guidance and return it to school. Homework will be assigned Monday-Thursday unless noted. Weekly assignment sheets will be sent home on Monday in the student's homework folder and posted on the ASJM Class Page. I expect the work to be done in a neat and orderly fashion. If there is a valid reason why the homework cannot be completed in the time given, parents are to write a note to the teacher and an extension will be provided. If your child has trouble with his/her homework, please write me a note at the top of the page, so that I can spend some added time with your child. First graders should spend no more than 20-25 minutes on written assignments and 20 minutes for oral reading along with completing the daily Reading Log found in the reading folder. If your child is consistently spending more than this, please let me know.
HOMEWORK FOLDERS
This is part of our home-school connection. Students are to return this folder to school every day. This folder will be used to bring home notices, homework, and corrected class work.
LANGUAGE ARTS / READING
First grade utilizes the Mc-Graw Hill Reading Wonders series. The critical elements of reading – phonemic awareness, phonics, fluency, vocabulary, and text comprehension will continue to be reinforced. Creative writing is also emphasized and grammar skills are introduced and reinforced through the writing process. Direct instruction in Handwriting is also emphasized during the first semester. Students will have spelling and high frequency words to learn each week and tests in reading comprehension, grammar, and spelling will be administered on Friday. Spelling lists with new words will come home on Mondays. During the week, your child will have homework opportunities to practice spelling the words before a test on Friday. Specific assignments will be listed on our daily homework page. Visit our page at Spelling City. Scroll down to find the current list. Keep your sound on when you practice to hear the words and letters.
MATH
Throughout the year, first grade students will learn addition and subtraction facts to 18. Other math concepts introduced are time, measurement, geometric shapes, fractions, probability, and graphing. Problem solving strategies are emphasized throughout all the math concepts introduced. Manipulatives such as bears, blocks, cubes, shapes, clocks, and number lines are used daily. At various times during the year we will count, sort, and graph candy corn, jelly beans, lucky charms, and m&m's. You can use the Sadlier-Oxford link on the "Favorite Links" page for fun activities for you and your first grader. You will also see the complete grade one math curriculum chapter by chapter on this website. Math homework is normally given each day. The Math Activity Workbook and additional homework resources will be used during the school year for nightly assignments.
MYSTERY READER
Due to the Covid school restrictions; the Mystery Reader Program has been cancelled for the 2020/21 school year.
Our Mystery Reader program was initiated eight years ago as part of our first grade routine. It was a definite hit and the students enjoyed it immensely as they eagerly awaited that knock at the door in anticipation of our guest. Please check the class page for further information with regards to this new addition to our class curriculum. A sign - up sheet will be available at Back to School Night. You are also more than welcome to contact me during the school year if you'd like to participate.
RELIGION
Due to the Covid restrictions; the ASJM students will attend Thursday Mass by grade only and you will be notified when the first grade will attend and the First Grade Sunday Masses are still to be determined. You will be notified if a Mass is scheduled during the school year.
This year we will learn more about the Catholic faith. We will attend Mass every Thursday at 8:15 A.M. and on Holy Days of Obligation. Please be on time for weekly mass. If you are late please bring your child directly to church. Two first grade Sunday masses are scheduled during the school year. Attendance is mandatory and familes will be notified of the dates at Back to School Night. Reminders will also be sent home prior to the scheduled mass. There will also be attendance at prayer services during the school year and we will also participate in various projects and activities with our fifth grade prayer partners.
REPORT CARDS
First grade report cards are issued three times during the school year: February, April, and June. The report card envelope is to be signed and returned the following day upon receipt of your child's report card not the report card itself. That is for your keeping.
SCIENCE
We will learn to differentiate between living and non-living things, from there we go to the study of plants and animals and then our program will extend to the environment, sound, and weather. A synopsis of each science unit will be posted to the ASFA class page website with the onset of the chapter we will be studying.
SOCIAL STUDIES
As part of our Social Studies curriculum, we will explore many topics. These will include – family, school, and community roles – holiday celebrations – early and key U.S. historical events, people and symbols - and map skills. A synopsis of each social studies unit will be posted to the ASJM class page website with the onset of the chapter we will be studying.
SPELLING CITY
Spelling City is a fun way for your first grader to learn his/her weekly spelling words. We have used this educational tool in our first grade for the past seven years and the children who use it, enjoy it. Each student also has an opportunity during the school week to access the site and practice their words on our classroom computers. In order to gain access to this website click on the Spelling City link on the "Favorite Links" on the grade 1 class page. Once there, you will find our first grade account and our spelling words for the entire school year.
TESTS
Tests will be sent home once a week for parent review and signature. They are to be returned the following day to school in the student homework folder.
TUESDAY FOLDER
Due to Covid school restrictions; there will be no Tuesday Folders sent home this school year.
Your child's Tuesday folder is very important. All communication from the school will be coming home in this folder. It is extremely important that everything is removed and reviewed. This folder should be returned signed and empty (unless returning requested info.) on Wednesday morning. These folders will go home with the oldest child.
ZZZ'S!
Please make sure that your child gets plenty of rest! Setting and keeping a bedtime schedule is a wonderful gift you can give your child. It will help them to be their best at school since we have many exciting days planned this year.